10 Tips to Prepare for Breast Reconstruction Surgery

How can you prepare for breast reconstruction surgery?
If you were going to give a close friend one piece of advice to prepare for breast reconstruction, what would it be? This is the question I recently presented to our social media followers and patients.
Their hearts for helping others immediately began to shine and the tips started rolling in!
Here are the top 10 tips to prepare for breast reconstruction:
You are your own best advocate! Be sure to research all your surgical options and discuss the pros and cons of each with your surgeon.
2) Timing is everything! Breast reconstruction can be performed at the same time as a mastectomy or years later. The key is to find the time that works best for you!
3) Keep a positive attitude! You've got this!
4) Find a qualified plastic surgeon you can trust! If you are unsure, seek multiple opinions until you are confident in your breast reconstruction team!
5) Always ask questions! Whether it's before or after surgery, always ask your health care team if you are unsure or confused about anything related to your surgery, healing, or outcomes.
6) Remember you are not alone! There are many out there who have journeyed through what you are going through. They are willing to help and support in any way they can. Join a support group in your area or online
7) Go into your journey with an open mind. Know the final results aren't going to happen overnight and there are usually multiple procedures involved in breast reconstruction. Remember your body will never look exactly as it did before, but it's still you and you are beautiful!
8) Have patience and remember this is a process!
9) Have a support team and accept help when they offer! Meals, dropping the kids off at school, a little light housecleaning—accept the help!
10) Get a shower chair and sprayer for post-surgery! It makes a huge difference and makes showering a lot easier for you while healing.
What would you add to the list?
Author: Dr. Minas Chrysopoulo and Courtney Floyd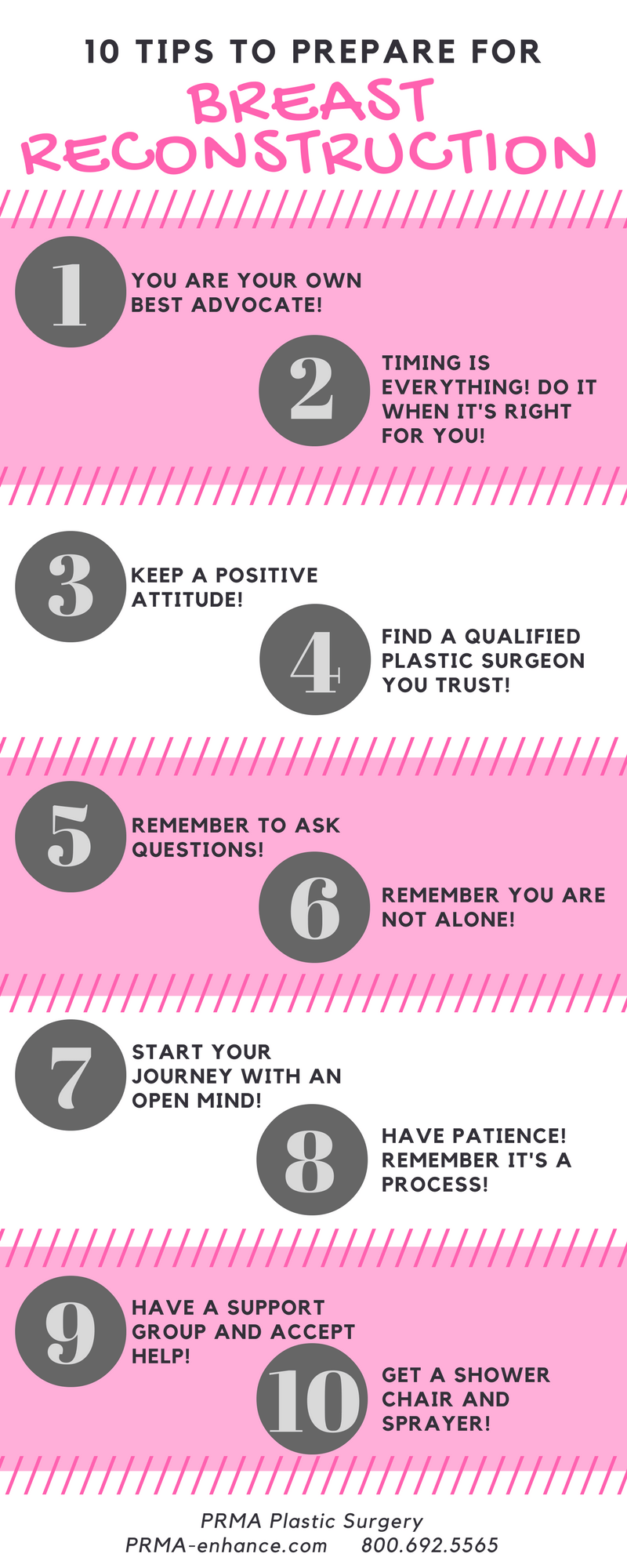 I really liked your tip to get a shower chair for post-surgery, because it will simplify showering while you heal. My wife is getting breast reconstruction surgery, and I want to help her with anything I can. I will be sure to buy a shower chair for her, because if it helps, I will get it to her.

I do like the infographic that you provided in order to summarize everything for your readers and I particularly agree with point number five. You will want to make sure that you are asking all of the right questions when hiring a plastic surgeon. That way you can make sure that they have the skills and experience you need them to have before you let them handle your breast augmentation.

Do exactly what your plastic surgeon says. He or she knows what they are talking about! Ask as many questions as you need to but totally follow their instructions!!

Great tips! We would also suggest putting together a 'self care' package before surgery that can be dipped in and out of, especially during those first few weeks of recovery. It can be as simple as a selection of magazines/colouring/puzzle books, a tv box set/podcast series, or a favourite fragranced candle and face mask. We recommend a selection of items that bring comfort and also keep your mind occupied. Recovery can be frustratingly boring at times!