What Everyone Should Know About Breast Cancer

Breast cancer affects many women in the United States and around the world. For every 8 women in the United States, 1 will be diagnosed with breast cancer during her lifetime. Women, and men, also have an increased risk of breast cancer if they have inherited a mutation in genes like BRCA1 (55%–72% risk) or BRCA2 (45%–69%) by 80 years of age.
At PRMA, we are committed to helping women gain a better understanding of this disease and their reconstructive options after diagnosis.
Know the Risk Factors
Being female and aging are the two main risk factors for developing breast cancer. A strong family history and carrying a gene mutation that increases breast cancer risk are also important risk factors. Although several risk factors are out of your control, it is possible to control lifestyle choices that can also play a significant role, such as not smoking, watching your weight, exercising regularly, and limiting your alcohol intake.
In terms of exercise, a great goal is at least 150 minutes of moderate aerobic activity each week, and strength training at least twice per week.
Even small amounts of alcohol can increase your risk if you drink consistently; occasional splurging is okay after a tough day of course, but try to limit yourself to no more than one alcoholic drink per day. 
A Mammogram Could Save Your Life
Because of mammography screening in the United States, most breast cancers are found early. According to new research, there was a significant drop in mammography breast cancer screen during the COVID-19 pandemic. The decline was particularly severe among American women of color and those residing in rural regions.
Detecting breast cancer at an early stage greatly increases the odds of successful treatment, so these trends are very worrisome and could cost lives in the future. While self-breast exams are important and can help Identify a new breast lump, many breast cancers don't present as a lump. Studies also show that having routine mammograms every two years can improve survival rates. While getting regular screening mammograms won't eliminate the risk of dying from breast cancer completely, they can reduce your risk of dying from breast cancer by about 30%. 
Men Get Breast Cancer Too
Despite the fact that women are more likely to develop breast cancer, men are also at risk: about 1 in 800 men will develop breast cancer in their lifetimes.  Since most men don't know they are at risk, many delays seeing their doctors and are often not diagnosed until their breast cancer is in a later stage. Male breast cancer can occur at any age but occurs most often in men between 60 and 70 years of age. A man's risk for breast cancer increases if he has a strong family history of breast cancer, or he carries a gene mutation that increases breast cancer risk (eg BRCA gene mutation). If diagnosed early, male breast cancer is very treatable and generally has a good prognosis.
Talk to PRMA Plastic Surgery About Your Reconstructive Options.
At PRMA, we empower our patients to learn about all their surgical options. To schedule a consultation please call us at 800-692-5565 or complete our free virtual consultation form HERE.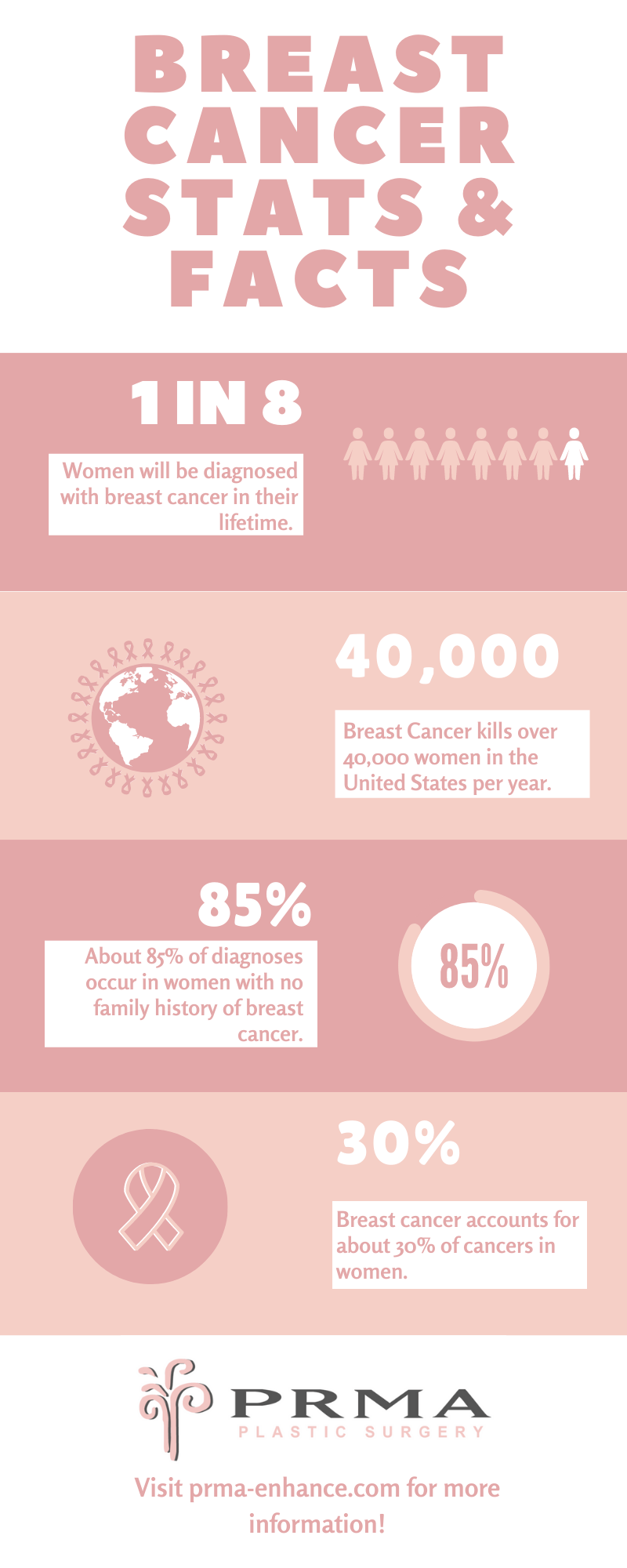 It is a great honor to be part of a team with such a rich tradition of excellent patient care, shares Dr. Andrew Gassman, the newest surgeon to join the PRMA team. Years and years of procedure fine tuning with individualized care means our patients truly benefit from both efficiency and experience.