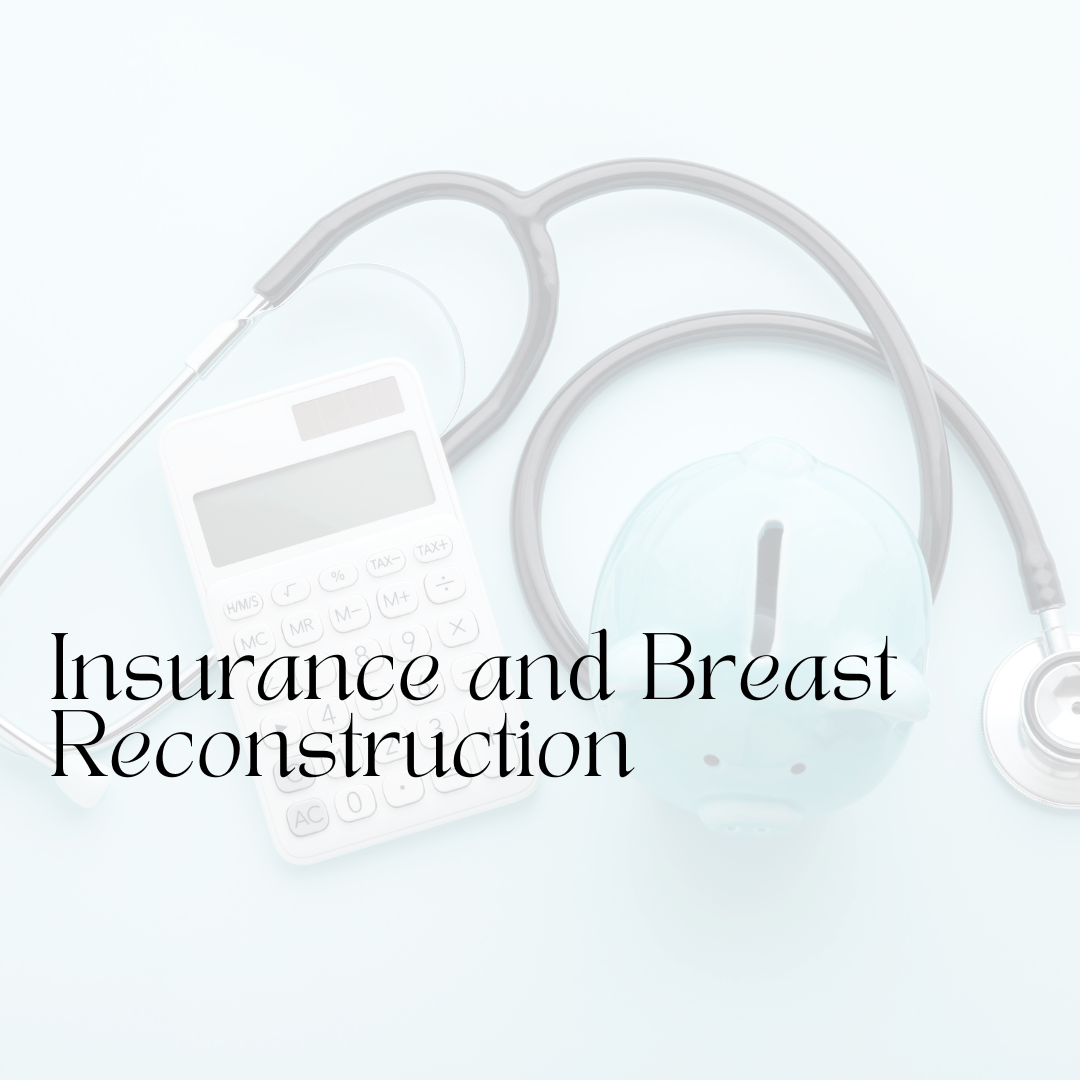 Insurance Coverage for Breast Cancer Reconstruction

Does insurance pay for breast reconstruction? 
As a breast cancer survivor, you may have questions about insurance coverage for breast reconstruction. We understand that insurance can be complicated and confusing, so we reached out to our insurance expert, Sharon Lacey, to help clear up some of the confusion.
Here are some of the frequently asked questions and answers from Sharon:
Are all insurance companies required to pay for breast cancer reconstruction?
Yes, Women's Health and Cancer Rights Act (WHCRA) of 1998 provides post-mastectomy patients the right to all stages of reconstruction of the breast on which the mastectomy was performed.
What is the difference between a PPO and an HMO? Is there a different process for HMO policies as far as getting approval?
HMO stands for health maintenance organization and PPO stands for preferred provider organization. Both types of plans use a network of physicians, hospitals and other health care professionals to provide you with the highest quality of care. The difference between the two is the way you interact with those networks.
With an HMO plan, you pick one primary care physician. All of your health care services go through that doctor. That means that you need a referral before you can see any other health care professional (except in an emergency). Visits to health care professionals outside of your network typically aren't covered by your insurance.
PPO plans give you flexibility. You don't need a primary care physician and you can go to any health care professional you want without a referral—inside or outside your network. Staying inside your network means smaller copays and full coverage. If you choose to go outside your network, you'll have higher out-of-pocket costs and not all services may be covered.
Can you accept out-of-state insurance policies?
We do accept out of state insurance plans providing the physicians are contracted and considered "in-network" with that insurance plan. Our billing department will verify and determine levels of coverage for each out of state patient before setting up an appointment to see one of our physicians. It is important to note that some insurance plans may provide limited benefits for out of state medical services. Also, Medicaid will only provide benefits when care is provided in the state in which the Medicaid plan is issued.
Your website says you don't balance bill, what does that mean?
PRMA does not balance bill our patients. Since we are in network with most major carriers, this means that we do not bill patients the difference between what the insurance plan allows and the amount that PRMA charges. This difference is written off and is known as a contractual adjustment.
Does insurance usually cover prophylactic mastectomy and reconstruction? Are there typically certain requirements you need to meet in order to be covered?
Each insurance plan has different levels of covered benefits as well as plan exclusions, therefore, this type of benefit has to be evaluated on a case by case basis. PRMA staff is trained to verify coverage with your insurance plan regarding this benefit and in many cases, a letter of pre-determination will be submitted to your insurance to clarify coverage.
How long does it usually take for insurance coverage to be verified for surgery? Is there a process it has to go through?
Insurance plans each have their own unique policies and procedures regarding precertification, predetermination and authorization. Sometimes this process can be accomplished quickly over the phone, while other times it must be performed via fax or email. When a patient has been diagnosed with cancer, this process is generally completely promptly by the insurance plan, however, in other non-immediate or delayed cancer cases, this process could take up to 6 weeks for finalization.
Are there certain types of reconstruction that aren't covered by insurance?
PRMA will verify the benefits that your particular insurance plan will cover and approve. Fat grafting is still considered experimental treatment by some insurance plans and in this instance, the carrier will notify our staff at the time of pre-determination of coverage. Again, this process is carried out on a case by case basis and determined by the level of benefits within your plan policy.
Recently I've been getting asked a lot of questions about insurance coverage for breast cancer reconstruction. I know that sometimes insurance can be very complicated and confusing so I went to our insurance expert, Sharon Lacey to help clear up some of the confusion.
This can be an excellent website. Thanks for sharing your thought.

Does Medicare cover reconstruction?

Hi Darlene, yes Medicare covers breast reconstruction. Are you located in Texas?

Do you guys accept out of state Medicare? I live in WV.

Hi Kim, unfortunately we do not accept out of state Medicare at this time.

I have had many surgeries 2 mastectomies, the first was a latissimas flap 12 years ago. I look awful on that side & I'm wondering if it can be repaired…does in insurance pay for replacement after so many years? I've heard implants need to be replaced after 10 years?

Hi Debra, if you have a few minutes, please complete our virtual consultation form: https://prma-enhance.com/patient-forms/virtual-consultation. This will allow our surgeons to get some background info on you and to see what type of reconstruction you're a candidate for. You can also upload your insurance card on the form and one of our billers can verify you benefits for you. Let me know if you have any other questions. -Brandy

I have Cigna Medicare Select Plus Rx (HMO), a Medicare Advantage plan, and live in Arizona. Do you accept this insurance?

Hi Carol, unfortunately we do not accept out of state Medicare plans at this time. What type of reconstruction are you looking into?

I have considered seeing you for "remodeling" of my past reconstructions. How long does one usually need to stay down near your facility and what happens for follow up care. I would like my implants exchanged,Don't know that I qualify for any flap procedures,because I have had abdominoplasty for hernia and torn muscle repairs) they have been in over 10 yrs and I am having a lot of issues w pain and wrinkles on the L side. (Bad bad Dr did that!) . I ma interested in finding out more about the "gummy" implants. Thank you

Hi Kathleen – for reconstruction you would need to stay in San Antonio for 2 weeks. The hospital stay is on average, around 4-5 days then you would need to stay an additional week for follow up care. If you'd like to see if you are a candidate for surgery, please complete our virtual consultation form, which you can find here: https://prma-enhance.com/patient-forms/virtual-consultation. You can give me a call at 800.692.5565 or email me at patientadvocate@prmaplasticsurgery.com if you would like to talk more or have any questions. -Brandy

My first stage DIEP procedure was done at PRMA. I no longer work for my previous employer. I am still needing my second and third stages of reconstruction. Do you take Texas Medicaid? I currently do not have Health coverage yet. Thank you

Hello Leanne! We do accept Texas Medicaid. Please feel free to give our office a call at 210-692-5565 to let our billing department know your insurance will be changing.

What insurances do you take?

We are in-network with most major insurance plans.

Does PRMA accept Kaiser Permanente Insurance ? I live in Northern California.

Hello Belinda, unfortunately we are not in network with Kaiser Permanente insurance. However, if you have any further questions or concerns please feel free to reach out to our billing department at 210-692-1181. Thank you!

I live in CO and have Kaiser insurance through my employment as an occupational therapist in Denver Public Schools. Is coming to you facility a possibility for me. I'd love to be able to feel my new breast after double mastectomy and reconstruction.

Hi Wendy, we routinely see patients from across the globe and would be more than happy to assist you. Our breast reconstruction specialists would be more than happy to evaluate your needs and provide you with their medical recommendations upon consultation: https://prma-enhance.com/schedule-your-consultation/.