DIEP Flap Breast Reconstruction: What to Expect

When preparing for DIEP flap surgery, or when weighing breast reconstruction options, knowing what to expect is important. DIEP flap reconstruction surgery uses the lower abdominal skin and fat to recreate a breast following breast cancer surgery.
How is DIEP surgery performed?
The surgery is performed in an in-patient setting, meaning the patient will stay in the hospital for a short time after the procedure. During the surgery, a football-shaped incision is made along the bikini line from hip to hip (like a tummy tuck incision). The skin, fat, and blood vessels removed from this incision are then transferred to the chest to create the new breast shape. An animation of the DIEP surgery process can be viewed here.
The transferred tissue is connected to the chest wall via microsurgery. Experienced surgeons use sutures as thin as human hair to attach the blood vessels from the abdominal tissue to blood vessels in the chest. A special microscope is used during this point of the procedure.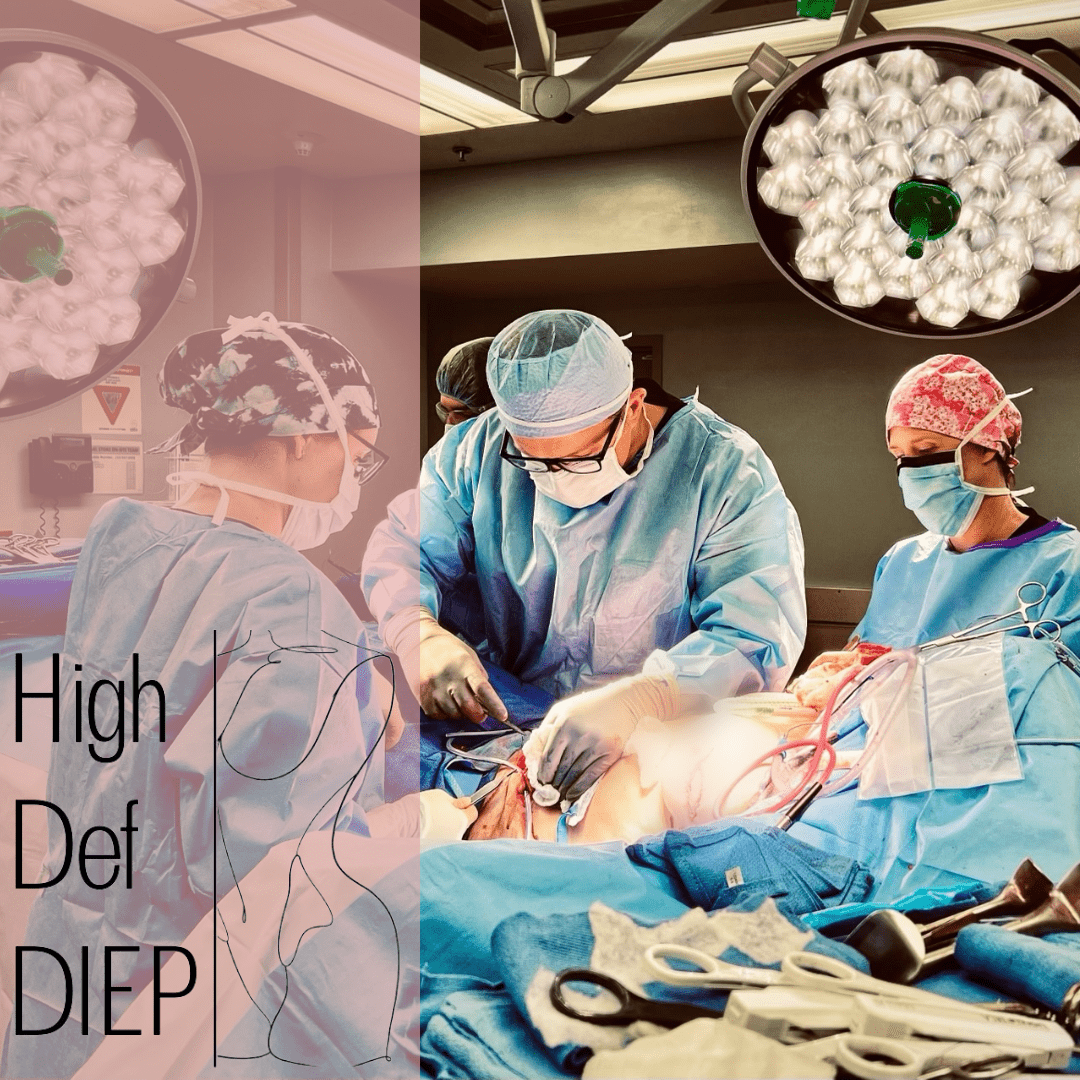 Unlike the more commonly known TRAM flap, DIEP reconstruction does not use any abdominal muscles. This means DIEP patients can heal faster, maintain core strength, and experience fewer abdominal complications compared to TRAM flap patients.
DIEP surgery typically takes 4-6 hours when performed at PRMA. Surgery time can be longer if a mastectomy is being performed at the same time.
What is DIEP flap recovery like?
After the surgery is complete, patients will remain in the hospital for a few days. Thanks to PRMA's ERAS protocol, most patients can go home after about 2 days following DIEP surgery. Patients at many other breast centers can plan to stay around 5 days. PRMA's ERAS protocol has also been shown to improve the healing experience for patients. Since implementing the protocol, patients experience less pain and rarely find the need for narcotic pain medication use following surgery.
Typically, patients are feeling more like their pre-surgery selves following DIEP after six weeks. (Click here to learn more about what to expect each week of recovery.) During the recovery period, patients will have drains for a short period of time. There will also be special post-surgery bras and abdominal binders that will need to be worn for a short duration of time.
As with any surgery, recovery is not the same for everyone. Healing can take time and patients must take the time they need to recuperate at their own pace.